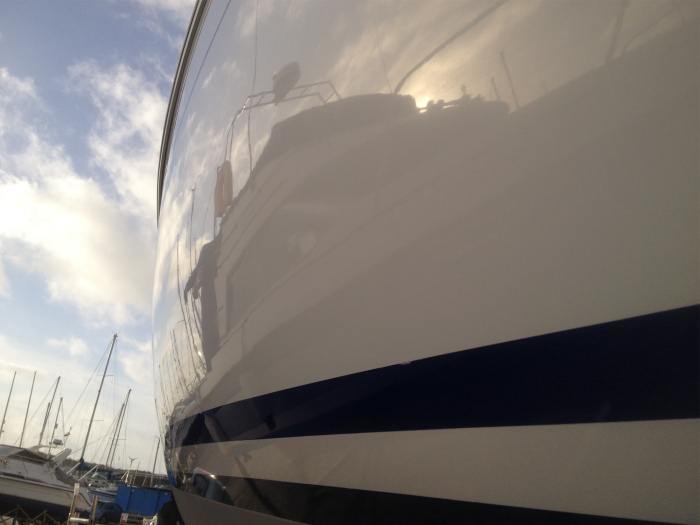 We all know and dread the new polished glossy shine of gelcoat fading away in the summer months, when the boat is being used most and the sun's rays are strongest. But there are a few things you can do to give your boat the best possible protection from fading during the season which will also give you a much cleaner boat to use.
What is Gelcoat Fading?
Firstly its useful to have a basic grasp of what gelcoat fading actually is so here's a quick and simple guide to why gelcoat fades. Now you know the basics I'll explain what we do to minimise gelcoat fading and keep boats clean during the season.
Why You Should Clean Your Surfaces Properly
To minimise the fading effects of the sun the most basic thing to do is remove any salt and other contaminants from the boat's surfaces. Many people will hose down their surfaces and some yards provide a power wash service but unfortunately only a fraction of salt (invisible to the eye) will actually be removed and, as you will no doubt have seen, not much dirt is removed either with water alone.
To test this (if you dare) just run your finger across a hosed surface once it has dried and you will be able to taste the residual salt still there. Salt in particular accelerates the oxidising reaction that causes gelcoat fading and to properly remove it the following steps should be taken:
Cleaning The Surfaces
Hose the surface down to wet it first. Then with a sponge and bucket of clean water, or even better add some marine detergent (which will not damage your gelcoat), rub down the surfaces with the sponge and then hose off the area.
Work section by section so the sponged area does not have time to dry before you hose it off and work from the top of the boat down so you don't have to go over any areas twice.
To prevent water marks and ensure the surface is left completely clean then dry the surface too. Otherwise dust in the air will stick to the water droplets on the surface and get left behind when it evaporates.
How to Make It Easier to Keep Your Boat Clean
To minimise the effort in washing down the surfaces and maximise the protection of your gelcoat, we would apply a protective coating and then work it into all of the gelcoat surfaces. The Gtechniq C2 coating that we use is dirt repellant which also keeps the surfaces cleaner because water (that carries dust and dirt) beads and runs off the surfaces quickly before it dries in the sun.
If you would like a more detailed guide to carrying out a detailed wash down of your boat so that it stays as clean as possible for the season and minimises the fading of your gelcoat, then just click here.
I hope you have found this advice useful and if you have any questions at all don't hesitate to get in touch at any time during the day or evening 7 days a week via our new office number 01752 936 121 which will always be answered.
Have a great weekend
JW